Are crooked, gapped, or crowded teeth making you lose confidence in your smile?
Our dentists can straighten your smile and boost your self-esteem with orthodontic care.
Drs. Michael Sharp and Aoua Coulibaly serving Portage, MI, can use clear aligners to create a beautifully straight smile.
Ready To Have a Confident Smile?
Contact Our Kalamazoo, MI, Practice
Misaligned teeth can make patients feel embarrassed and cause them to hide their smiles from the world. Our experienced dentists provide an orthodontic option to help patients gently move their teeth into alignment, creating healthy, beautiful smiles. Contact our Portage-area dental practice today to request your orthodontic consultation.
How Can Orthodontics Benefit Me?
Enhance Your Appearance
Crooked, gapped, and misaligned teeth cause patients to be self-conscious of their smiles. Orthodontic treatments like braces or clear aligners can fix these aesthetic flaws giving you a dazzling, confident smile.
Improve Oral Health
A crooked and overcrowded smile can make it difficult to effectively clean your teeth and gums. By shifting your teeth into proper alignment, you can prevent bacteria from building up and creating severe oral health issues.
Maintain Bite Function
A misaligned bite can have major repercussions on your overall oral health. An unevenly distributed bite force puts added stress on your temporomandibular joint, which can lead to TMJ disorders. Orthodontics can reposition your bite to prevent TMD.
See the Difference
Orthodontics Can Make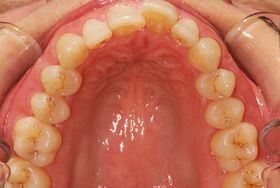 Want a Straighter Smile?
Contact Our Portage-Area Dental Practice
Sharp Smile Center offers world-class dentistry to the residents of Portage and beyond. Our practice uses the latest dental technology, so treatment is comfortable, precise, and effective. Both of our dentists are passionate about restoring and maintaining the health and beauty of every patient's smile.
If crooked teeth are affecting your confidence, don't wait to call our Kalamazoo, MI, dental office. Our skilled dentists can create a customized treatment plan so you can skip the orthodontist.
Contact us today if you are ready to align your smile.
What Our Patients Are Saying
"I have never been happier with a dental office."
Love this office! From the check in/out process to the amazing hygienist (Nicole) and last but not least Dr.C. Every aspect of my dental care is out in my hands and everyone is understanding and non judgemental about when and what can be done. I have never been happier with a dental office.
View On Google
Dr. Sharp's staff worked with me to get me in during the holiday season to get 4 veneers done. Dental work is never pleasant but the Sharp group made me as comfortable as possible, were very accommodating and I was very pleased with the results! I wish I could add a picture as this is an old photo. I highly recommend this group!
View On Google
SureSmile is an effective, customizable treatment for orthodontic issues. Our dentists will get to know your aesthetic goals and oral health needs to formulate a treatment plan that creates the best results. We work directly with the SureSmile Digital Lab specialists to ensure the fabrication of your trays is accurate and precise. The effects of SureSmile are permanent with the proper aftercare and will give you the straight smile you've always wanted.
How Does SureSmile Work?
What To Expect Throughout Your Orthodontic Treatment
Like an orthodontist, our dentists in Kalamazoo, MI, can customize your treatment. Once your aesthetic goals have been determined, your customized SureSmile trays will be fabricated in a way that will gradually move your teeth into alignment and create a stunning smile. You can expect several steps:
With proper oral care and a retainer, your straight smile can be permanent.
What is the field of orthodontics?
Orthodontics refers to a specialized area of dentistry that focuses on the alignment of your teeth and bite.
Why don't I need to see an orthodontist for SureSmile treatment?
SureSmile is a highly effective way to treat mild-to-moderate orthodontic issues, but you don't have to be an orthodontist to provide it. Our experienced dentists have undergone specialized training so they can offer this service to patients.
How long is SureSmile treatment?
Your treatment timeline will depend on the extent of orthodontic care you need. In general, patients can expect treatment to take anywhere from 12 to 18 months.
Can you eat and drink while wearing your aligners?
No. Your SureSmile aligners will need to be removed before eating, drinking anything other than water, brushing, and flossing your teeth. Because they are removable, it is easier for SureSmile patients to keep their teeth and gums healthy throughout their orthodontic care.
How often do you change SureSmile aligners?
You will wear each set of aligners for one to two weeks before switching to the next set. Each tray is designed to gradually move your teeth into further alignment during the course of your care.
"All around an amazing place to go!"
All around an amazing place to go! The staff is incredibly nice and helpful. They are so welcoming that I'm no longer scared to go to the dentist! Will always recommend this dentist
View On Google
I had a great experience at Sharp Smile Center. The treatment was fast and painless, the communication was prompt and courteous. I am very happy with the results. I highly recommend the center for any cosmetic dentistry needs.
View On Google