Missing teeth can be a major source of anxiety because they affect your oral function, health, and appearance.
High-quality dentures can replace missing teeth, restoring your ability to eat, smile, and speak with confidence.
Learn more about the traditional and implant-supported dentures offered at Sharp Smile Center, serving Kalamazoo and Portage, MI.
Contact Our Practice
to Find Out How We Can Restore Your Smile
At Sharp Smile Center, Dr. Michael Sharp offers traditional and implant-supported dentures. Implant-supported prosthetics provide a range of outstanding benefits, including excellent stability and prevention of jaw atrophy. However, this option is not suitable for every patient.
With more than 35 years as a dentist, Dr. Sharp has studied with masters in the field and is highly trained in implant dentistry. He can conduct a detailed analysis of your teeth, gums, and jawbone to determine which solution is best for your needs.
Contact us online or call our practice in Kalamazoo to schedule a consultation. We draw patients from Kalamazoo, Portage, and the surrounding area who are looking for a highly trained dentist.
Give Us a Call Today
Friendly, Professional, Informative.. What else could you ask for? Nothing..This is a incredible dental experience. A one stop office that takes care of all your needs. Don't like being sent to one dentist for a procedure and referred to another for additional treatment. Come to the Sharp Smile Center. ALL your needs will be taken care of. Thank You so much Dr. Sharp and Staff for helping me, making the whole experience great.

Douglas S., 5-star Google review
Additional Options
For Treating Tooth Loss
The above options are ideal for multiple missing teeth. If you are missing a few teeth in a row, it may be possible to place a dental bridge. A bridge can be held in place with crowns attached to nearby teeth or with dental implants. If you are missing just one tooth, a single crown attached to an implant can fill the gap.
Conventional Dentures vs.
Implant-Supported Restorations
Traditional dentures rest on the dental arch or may use clasps around natural teeth for added stability. Denture adhesives can also improve stability.
Implant-supported prosthetics are secured with dental implants. These artificial tooth roots provide the most secure anchor for dentures and other dental restorations.
Traditional Dentures
The benefits of traditional dentures include:
Cost-effectiveness: Since traditional dentures don't require patients to undergo implant surgery, the total cost of treatment is more affordable.
A faster treatment process: Implant surgery requires a three- to six-month healing period, which extends the total treatment timeline. A traditional solution, on the other hand, can replace your teeth much sooner.
Implant-Supported Dentures
The benefits of implant-supported restorations include:
Preventing jaw atrophy: Like natural tooth roots, dental implants send regenerative signals to your jawbone, preventing the recession that occurs after tooth loss.
Provide excellent stability: Implant-supported restorations do not require adhesive or suction from your palate to stay in place. They fasten securely to your implants and will not slip or click during meals or when you speak.
Discuss Your Options
Which Type of Denture Is Right for Me?
Given all of the restorative dentistry options for tooth loss, it's important to speak with an experienced dentist about the right procedure for your needs. Dr. Sharp can review your options and help you get the precise treatment you need. Send our practice a message or give our Kalamazoo, MI, dental office a call at (269) 344-4004.
"The very best for excellence
in dental care."
5-Star Reviews from the Kalamazoo and Portage Area
The very best for excellence in dental care. In every element, my experience with this staff has been nothing short of superb. From cleaning to implant and crown work, I couldn't have asked for better, more caring professional attention. I drive 247 miles from Central Illinois to remain a patient of this dental service, and it's worth every mile.
View on Google
Greatest Dental Team on the planet, I am an anxious Dental Patient but with their strong desire to make me comfortable, I am in the middle of full implants with great hopes for the future. Thanks Dr. Mike and crew!!!
View on Google
The Treatment Timeline
For Traditional Dentures
The typical traditional dentures treatment process involves five steps. If you are receiving an implant-supported restoration, you can expect treatment to take about three to six months longer because you must undergo and recover from dental implant surgery.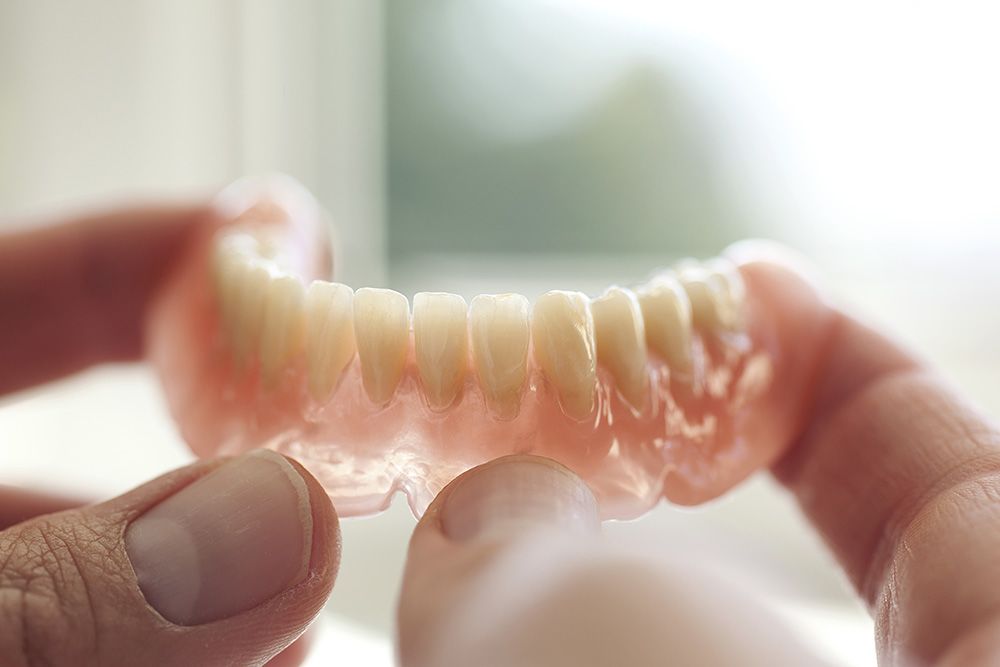 How Long Do Dentures Last?
With proper at-home care, your prosthetic can last many years. While the restoration will eventually need to be replaced due to normal wear and tear, many restorations can last up to a decade.
Caring for Your Traditional Denture
To get the most from your prosthetic, make sure you:
Remove your denture every night before going to sleep
Place your denture in water or a soaking solution overnight
Brush the denture clean with a soft-bristled toothbrush
Cover your sink with a towel for padding to prevent damage
Thoroughly rinse your denture before putting it back in

Additional Denture Care Tips
If you have an implant-supported prosthetic, you can care for it just as you would your natural teeth. Brush twice and floss at least once each day, and make sure to attend six-month checkups with your dentist.
Dentures Cost and Financing
Because of the range of options, the cost of treatment can vary greatly, with patients spending anywhere from $2,500 to $30,000 on their new dentures.
The total cost of your treatment plan will depend on whether you need full or partial dentures, the type of material used, and if the prosthetic will be secured with dental implants. Our dentists are always mindful of affordability, which is why we will work with you to help reduce out-of-pocket costs and find an affordable denture solution.
Insurance and Financing Options
Our team serving Kalamazoo and Portage will check your insurance plan to see if any costs are covered by your provider.
Sharp Smile Center also offers financing options, including CareCredit® and LendingClub®, to help you pay for the treatment you need in monthly installments.
Denture Repair Options
Fixing Denture Fractures
In the event that your prosthetic becomes damaged, do not attempt to repair it yourself. The appliance will need professional attention from a dentist to assess the damage. Contact Sharp Smile Center and we will determine if a repair is possible or if a new prosthetic is needed.
Sharp Smile Center made me comfortable and everyone was very friendly and nice. They make sure they take the time to listen to your needs and what matter most. Would highly recommend to others. Before I was always very nervous and had high anxiety going to the dental office.

Matt W., 5-star Google Review