Sensitive teeth or a fear of the dentist can cause many of us to delay the care we need, increasing the risk of serious oral health issues.
If you struggle with dental care, Drs. Michael Sharp and Aoua Coulibaly can help you comfortably undergo treatment with sedation dentistry.
Learn how sedation dentistry helps patients in greater Portage and Kalamazoo, MI, get the care they need...
Dental Work Makes You Uncomfortable?

Don't Worry, You Are Not Alone...
Nervous? We Have a Solution.
Are you ready to get relief from a toothache or other painful dental condition? Are you overdue for a checkup? Schedule your next dental appointment with confidence knowing that you will be comfortable and well cared for.
Drs. Sharp and Coulibaly have both received additional education and training in order to safely administer sedation. We strive to change your perception of what dental care is like with easy and relaxing treatment. Find out if sedation dentistry is right for you by scheduling an appointment at our practice in Kalamazoo. You can reach us online, or by calling:
Over 100
5-Star Google Reviews
Always a great experience when visiting the dentist at Sharp Smile Center. Dr. C, Amanda K and Emma are very good at making you feel comfortable and do amazing with anxious patients, like myself. The sedation options they offer are a plus too.
View on Google
My family and I have had nothing but wonderful experiences at Sharp Smile Center! Everyone that we have encountered at the office has been friendly, welcoming, and thorough. And as someone with previous traumatic experiences related to dentistry, I couldn't have imagined ever feeling as comfortable and safe as I do with Dr. C and her team!
View on Google
Sedation Can Help with Several Concerns...
Anxiety
Dental sedation can especially help patients with dental anxiety caused by previous trauma or a fear of the noises, smells, and sensations experienced in a dental practice.
Strong Gag Reflex
Patients who suffer from a strong gag reflex have a hard time undergoing different types of dentistry without feeling intense discomfort. For these patients, medication can provide immense relief.
Lengthy Dental Procedures
Sedation dentistry can also be very beneficial during lengthy dental procedures. When you are still and calm, we are more likely to complete treatment in a single appointment.
What is Sedation Dentistry?
Hear What Dr. Sharp Has To Say...
How Safe Is Sedation Dentistry?
Trusted, Reliable, and Effective
When administered by a highly qualified dentist such as Dr. Sharp or Dr. Coulibaly, sedation dentistry is very low-risk. Sharp Smile Center can provide customized sedation dentistry to help you achieve the comfort you need while also staying safe. During your dental visit, we closely monitor your heart rate and vitals to make sure you are responding properly to medication and not experiencing any adverse side effects. While you can be sure you are in good hands at our office, we also want you to be safe once you leave our doors. We recommend that patients undergoing certain forms of sedation arrange for a ride home, and stay away from driving and strenuous activity for at least a day as the effects wear off.
Am I a Good Candidate?

While dental anxiety, physical discomfort, and complex treatment plans typically lead patients to consider sedation, not everyone is a good candidate for sedation...

During your visit, your dentist will evaluate your medical history and determine whether there are any allergies, medical conditions, or other issues that could affect the safety of your sedation. If you are pregnant, we typically recommend waiting until after you give birth to receive sedation. If you have any allergies, be sure to discuss them with us during your dental appointment at our office, serving greater Portage, MI.
We Offer a Range of Sedatives
Relaxing Treatment With Sedation
Learn More
About Your Options
Our Portage dental patients can choose from three main categories of sedation: nitrous oxide, oral conscious, and IV sedation.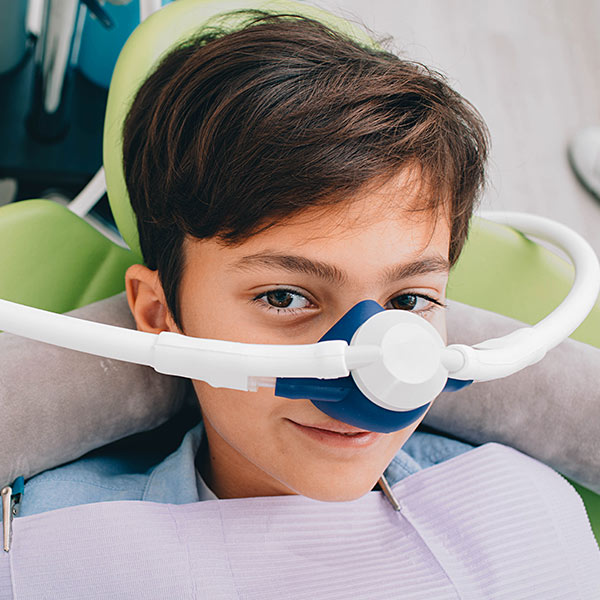 Nitrous Oxide
Nitrous oxide, also known as laughing gas, is inhaled through a mask throughout your procedure. Nitrous oxide induces a state of conscious sedation, meaning you will remain awake, just less aware of your surroundings. Laughing gas works fast and wears off quickly, allowing patients to go on with their day relatively unaffected, and even drive themselves home from treatment.
Oral Conscious
Oral conscious sedation is administered in the form of an anti-anxiety pill. This method is usually considered to be more powerful than laughing gas and can be a better option for treating patients with more severe phobias or sensitivity. While you remain conscious under this medication, you typically have less awareness, and may not remember the procedure.
​IV Sedation
IV sedation is an anti-anxiety drug administered intravenously. While it is sometimes referred to as sleep dentistry, IV sedation does not actually cause you to lose consciousness. Patients will enter into a state of deep relaxation while still being able to breathe on their own and respond to questions. IV sedation is typically reserved for patients with extreme cases of anxiety or sensitivity, or those who do not respond well to other options.

Combination Treatment
For dental patients with extreme anxiety, we can combine two sedative solutions for more significant levels of relaxation. Drs. Sharp and Coulibaly will carefully assess your condition to determine if combining medications is appropriate for you, and then closely monitor you during the procedure to ensure your safety.
Which Type Is Right For Me?
Before undergoing any form of sedation dentistry, you will meet with one of our dentists for a consultation. It is important to be open and honest about your complete medical history so we can determine which is the safest option for you. During this appointment, talk to us about your levels of pain and anxiety as well as any concerns you have about undergoing dental care. We can tell you which options you qualify for and how you can expect to respond to each. From here, we will come up with a plan for your treatment and schedule your procedure.
Achieve Peace of Mind
​Schedule a Consultation Today
It might sound crazy, but it is possible for dental treatment to be a pleasant experience rather than a necessary evil. Caring for your teeth should be as stress-free as any other form of self-care and we are here to give you that peace of mind. Sharp Dental Center takes advantage of innovative solutions in modern dentistry to provide you with superior dental care. Experience your next procedure in optimal relaxation at our Kalamazoo practice. Request a consultation online, or by calling:
Praise
from Sharp Smile Center Patients
In my opinion, the best dental practice in Kalamazoo. I suffer from extreme anxiety and Denise made me completely at ease. I highly recommend this dental practice for anyone who suffers anxiety from dental procedures. They are very compassionate, gentle and understanding.
View on Google
Greatest Dental Team on the planet, I am an anxious Dental Patient but with their strong desire to make me comfortable, I am in the middle of full implants with great hopes for the future. Thanks Dr. Mike and crew!!!
View on Google
What to Expect
After Your Appointment
The effects of some sedatives take longer to wear off than others and need to be appropriately planned for. Our dentists will provide you with detailed post-treatment instructions to ensure you recover safely. Here is what you can generally expect after your appointment under the different sedatives...
Nitrous
Oxide
Nitrous oxide is one of the mildest options and will begin to wear off almost immediately after you stop inhaling the gas. Most patients will be able to drive themselves home from their appointment and perform their normal daily activities.
Oral Conscious Sedation
It can take several hours for oral conscious sedation to wear off and you should find someone to drive you to and from the office. Avoid strenuous activity and get plenty of rest until you feel back to normal, typically within 24 hours.
Intravenous
Sedation
Intravenous sedatives will remain in the body for a longer period of time than other forms. Patients can expect to feel drowsy for several hours afterward and should avoid alcohol, unapproved medications, and driving for at least 24 hours.
As with any treatment, we encourage you to contact our dentists if you have any questions following your procedure. While side effects are rare, you should pay attention to how you are feeling and call our office or your primary care doctor if you believe you are having an adverse reaction.
The Cost of Dental Sedation
Treatment will vary in price depending on the form of sedative, but usually costs around $525 per session. Some forms of dental insurance include coverage for sedation and we will be happy to look into your plan to find out if you qualify. It is important to remember this additional cost can actually save you money in the long run. Patients who forgo necessary and routine dentistry can create serious oral health problems that will require expensive restorative procedures. Furthermore, sedatives can help us get your dental work done more quickly, saving you the time and expense of multiple office visits.
If you are terrified of going to the dentist and have a lot of anxiety, like me, go to Sharp Smile! Great thorough care and worth EVERY penny! Kandace Lavender