Missing teeth can be a major source of anxiety because they affect your oral function, health, and appearance.
High-quality dentures can be used to replace multiple missing teeth, restoring your ability to eat, smile, and speak with confidence.
Learn more about the traditional and implant-supported solutions offered at Sharp Smile Center, serving Kalamazoo and Portage, MI...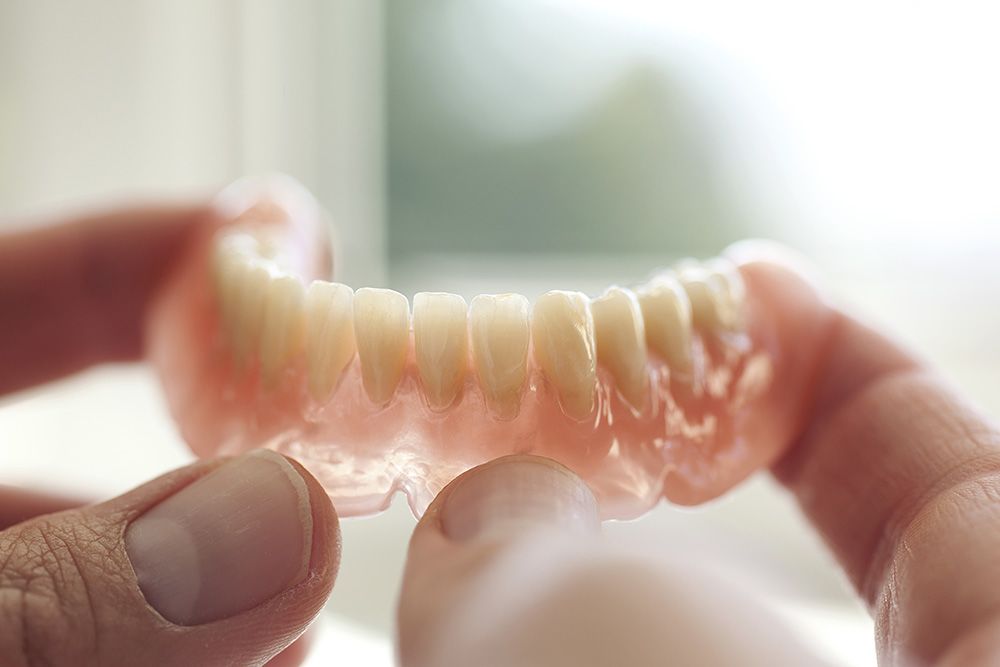 Friendly, Professional, Informative.. What else could you ask for? Nothing..This is a incredible dental experience. A one stop office that takes care of all your needs. Don't like being sent to one dentist for a procedure and referred to another for additional treatment. Come to the Sharp Smile Center. ALL your needs will be taken care of. Thank You so much Dr. Sharp and Staff for helping me, making the whole experience great.

Douglas S., 5-star Google review
Contact Our Practice
to Find Out How We Can Restore Your Smile
At Sharp Smile Center, Dr. Michael Sharp offers traditional and implant-supported dentures. Implant-supported prosthetics provide a range of outstanding benefits, including excellent stability and prevention of jaw atrophy. However, this option is not suitable for every patient.
Dr. Sharp is highly trained in implant dentistry, with advanced training and 20 years of experience in the field. He can conduct a detailed analysis of your teeth, gums, and jawbone to determine which solution is best for your needs.
Contact us online or call our practice serving Kalamazoo and Portage at (269) 344-4004 to schedule a consultation at our practice.
The Dentures Treatment Timeline
The typical traditional dentures treatment process involves five steps. If you are receiving an implant-supported restoration, you can expect treatment to take about three to six months longer because you must undergo and recover from dental implant surgery.
Step 1. Consultation and Prep
During your consultation, our dentist will assess the condition of your teeth and gums and discuss your treatment options with you. If you have severely decayed teeth, we can extract them or perform restorative treatments. Any signs of gum disease will also need to be treated. Once we have a healthy foundation for your restoration, we can move forward with treatment.
Step 2. Design and Impressions
The next step is to take digital impressions of your teeth and gums. With your input and help, we will also design your prosthetic at this appointment so it complements your facial features and looks as natural as possible. Your digital impressions and design specifications will be sent to the technicians at our trusted dental lab, where they will craft a prosthetic that fits securely and comfortably.
Step 3. Fabrication
We work with a reputable dental lab where skilled technicians create your custom dentures using high-quality materials. Dr. Sharp will provide the dentistry lab with all of the information they need to fabricate your custom restoration, including precise details about the appearance, the type of materials used to craft the prosthetic teeth, and accurate images and measurements of your mouth.
Step 4. Try-Ins
After your custom restoration has been made (this process typically takes a few weeks) you will return to our office serving greater Kalamazoo and Portage to try on your prosthetic. Our doctors will assess the fit to ensure that your new restoration feels comfortable, functions properly, and looks attractive. If any adjustments are needed, we will send your restoration back to the lab.
Step 5. Delivery
Once the ceramicists at the dentistry lab have completed any final adjustments, you will come back to our office for your permanent restoration. With your new restoration in place, you can feel confident showing off your smile, going out to eat, and talking with family and friends.
Types of Dentures Offered at Our Practice
Every patient has different needs, which is why we offer a range of different options at our practice:
Traditional dentures
Full and partial dentures
Implant-supported options, including All-on-4® and snap-on implants
These options are ideal for multiple missing teeth. If you are missing a single tooth or several teeth, it may be possible to place a traditional bridge, which is attached to dental crowns. The dental crowns are placed over adjacent teeth to hold the bridge in place.
Traditional vs. Implant-Supported Restorations
Traditional dentures can be attached to surrounding natural teeth with clasps, or secured to the gums using a combination of suction and adhesives.
Implant-supported prosthetics are secured with dental implants, providing the most secure anchor for dental restorations.
Benefits of Implant-supported Restorations

The benefits of implant-supported restorations include:
Preventing jaw atrophy: Like natural tooth roots, dental implants send regenerative signals to your jawbone, preventing the recession that occurs after tooth loss.
Provide excellent stability: Implant-supported restorations do not require adhesive or suction from your palate to stay in place. They fasten securely to your implants and will not slip or click during meals or when you speak.
Benefits of Traditional Dentures

The benefits of traditional dentures include:
Cost-effectiveness: Since traditional dentures don't require patients to undergo implant surgery, the total cost of treatment is more affordable.
A faster treatment process: Implant surgery requires a three- to six-month healing period, which extends the total treatment timeline. A traditional solution, on the other hand, can replace your teeth much sooner.
Sharp Smile Center made me comfortable and everyone was very friendly and nice. They make sure they take the time to listen to your needs and what matter most. Would highly recommend to others. Before I was always very nervous and had high anxiety going to the dental office.

Matt W., 5-star Google Review
How Common
Is Complete Tooth Loss?
Caring for Your Prosthetic
With proper at-home care, your prosthetic can last many years. While the restoration will eventually need to be replaced due to normal wear and tear, many restorations can last up to a decade. To get the most from your prosthetic, make sure you:
Remove it nightly
Place it in water or a soaking solution overnight
Rinse it thoroughly before putting it back in
Cover the sink with a towel for padding when rinsing in case it falls
If you have an implant-supported prosthetic, you can care for it just as you would your natural teeth. Brush twice and floss at least once each day, and make sure to attend six-month checkups with your dentist.
In the event that your prosthetic becomes damaged, do not attempt to repair it yourself. Contact our office and we will determine if repair is possible or if a new prosthetic is needed.
Dentures Cost and Financing
If you are suffering due to extensive tooth loss, our compassionate dentist and dental team can help. The total cost of your treatment plan will depend on whether you need full or partial dentures, the type of material used, and if the prosthetic will be secured with dental implants. Because of the range of options, the cost of treatment can vary greatly, with patients spending anywhere from $2,500 to $30,000 on their new dentures.
Our team serving Kalamazoo and Portage will check your insurance plan to see if any costs are covered by your provider. We also offer financing options, including CareCredit® and LendingClub®, to help you afford the treatment you need.
Dr. Michael Sharp is a member of several professional dental organizations, including:
American Academy of Cosmetic Dentistry
American Dental Association
International Association for Orthodontics
Master of the International Congress of Oral Implantologists
Dental Organization for Conscious Sedation
Contact our practice online or call (269) 344-4004 to schedule an appointment.