You can't have a great smile without a full set of strong, healthy, and fully-functioning teeth. Even one missing tooth can cause a domino effect that negatively affects your appearance, oral health, and general wellness. For this very reason, we're pleased to offer the most innovative treatment for tooth replacement: dental implants. With dental implants, Kalamazoo patients can return to a healthy, complete smile that looks and feels amazing, all provided in the comfort of our state-of-the-art dental office.
Dental implants are titanium posts which serve as replacement tooth roots. The post is placed through a simple surgery completed by Dr. Sharp. Once the post is in place, a process called osseointegration occurs, where your bone tissue grows around the post to provide a stable environment for your custom replacement teeth, usually a porcelain crown or denture.
Schedule your comprehensive dental implant consultation to find out why they're the #1 tooth replacement choice.
Implants are the only tooth replacement solution that protect against bone loss and allow you to maintain the healthy bone structure needed for optimum oral health. Also, teeth provide the structure to your face, so your cheeks will look fuller, negating the sunken appearance that is typical after tooth loss.
Not all dentists are trained and practiced at placing their own dental implants. Many send their patients to a specialist for the surgery and complete only the restoration portion of treatment. Dr. Sharp has a surgical suite designed specially for the placement of dental implants. This means he can complete the entire process from beginning to end, so that your new tooth will function its best and reflect the most natural appearance.
Implant dentistry is among the most gratifying aspects of dentistry for our team. There's nothing we love more than seeing our patients who once had missing teeth be able to eat, speak, and smile confidently; almost as if they had never experienced tooth loss in the first place! If you have missing teeth, and would like to find out if you're a candidate for dental implants in Kalamazoo, call Sharp Smile Center to schedule your consultation today.
Related Dental Implant Articles
Dental Implants – Your Third Set of Teeth
A discovery fifty years ago paved the way for one of dentistry's most exciting, natural looking and successful tooth replacement systems. Learn how dental implants might just possibly change your life… Read Article
The Hidden Consequences of Losing Teeth
For those missing even one tooth, an unsightly gap is actually the least significant problem. What's of far greater concern is the bone loss that inevitably follows tooth loss. Dental implants fused to the jawbone can preserve bone, improve function and enhance psychological well-being. Learn how implants serve both as anchors to support replacement teeth, and preserve bone as one of the better preventive maintenance procedures in dentistry… Read Article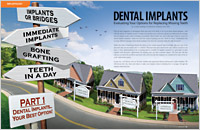 Dental Implants – Evaluating Your Options for Replacing Missing Teeth
As we guide you through the marketing hype you'll see that well planned implants most often require a team approach in assessing whether they're right for you. Not only are they a better treatment choice, they will last longer, possibly a lifetime, making them the right choice and the most cost effective option long term… Read Article
Implant Overdentures for the Lower Jaw
Implant overdentures represent a major change for the dental profession and the public. The lower jaw two-implant overdenture may be considered a more appropriate starting point over regular dentures… Read Article